The Alarm.com In-App Panel Panic monitoring station supported feature can expedite the dispatch of emergency personnel when help is needed at home. When the panel is not in arm's reach, and the keyfob is out of range, a homeowner can open up the Alarm.com app and have all their panel's panic buttons available in the app. If enabled on the account, In-App Panel Panic is always available on the Security System card on the home page of the Alarm.com app.
Important: While the Alarm.com app supports Fire, Medical, Police, and Silent panics, it will only display those that the panel supports. If the panel does not support any panic buttons, the app will by default display a silent panic button.
This feature is added to all  Alarm.com customer with interactive services.   If you wish to opt-out of the Cancel/Verify feature please email Service@AdvancedSecurityLLC.com and include your Name, Address and password along with your desire to Opt-out of this feature.
To trigger a panel panic from the Customer app:
Log into the Customer app.
In the Security System card, tap Panic.
Press and hold the type of panic to be triggered.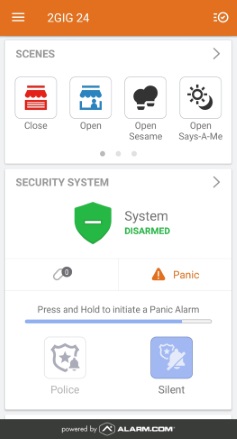 4. After three second countdown in which the panic can be canceled or immediately sent, it will successfully be sent to the monitoring station.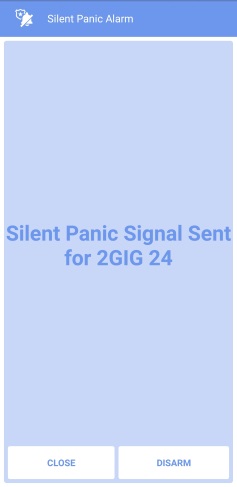 5. Tap Close to wait for assistance or Disarm to disarm the panel.
In-App Panel Panic supported panels
In-App Panel Panic reflects options that are available at the panel, in addition to Silent.
Note: In the Audible Panic compatibility column below, Yes means that Police, Fire, and Medical panics are available unless noted otherwise.
| Panel | Silent Panic compatibility | Audible Panic compatibility |
| --- | --- | --- |
| Interlogix Simon XT | Yes | No |
| Interlogix Simon XTi / XTi-5 | Yes | No |
| Interlogix Concord | Yes | No |
| Interlogix NX | Yes | No |
| 2GIG GoControl 2 | Yes | *Yes (Panel firmware version 1.17.0.1+ required) |
| 2GIG GC3 | Yes | No |
| 2GIG Vario | Yes | No |
| Qolsys IQ Panel  / DSC Touch | Yes | Yes (Panel firmware version 1.6.3+ required) |
| Qolsys IQ Panel 2 | Yes | Yes |
| DSC Impassa | Yes | No |
| DSC PowerSeries Neo | **Yes | No |
| DSC iotega | Yes | No |
| Climax | Yes | Yes (Panel firmware version 2.1+ required) |
| SEM – DSC PowerSeries | Yes | No |
| SEM – Honeywell/ADEMCO Vista | Yes | No |
*Only Police and Silent panics are available at this time.
**In-app panel panic is not compatible with DSC PowerSeries Neo panels in UL mode. If UL mode is enabled, app-based panics will not forward to the monitoring station.
Note: Panel support is still under development, and announcements will be made through release notes as new panels are supported.
Frequently asked questions
What happens when the panic button is pressed?
When the customer presses and holds any of the available panic buttons, a signal is sent from the Alarm.com app through Alarm.com's backend to the monitoring station and communicates the selection. Another signal is sent simultaneously to the panel to register the command and trigger an audible alarm if applicable.
What if the customer sends a Panic by mistake?
After pressing the panic button, a new screen pops up with a three-second countdown, below the countdown is a Disarm button. Tapping Disarm will negate the panic signal that was just triggered.
Will assistance be sent to the customer's home location or their current geographic location?
Sending a panic from with the In-App Panel Panic interface will act as if a panic is being sent from the panel. Messaging in the app will reinforce that when a signal is sent, emergency personnel will be dispatched to the home/panel location.
Emergency personnel will not arrive to the customer's geographic location. They will only go to the address listed on your monitoring station account. It is encouraged to keep that information up-to-date.