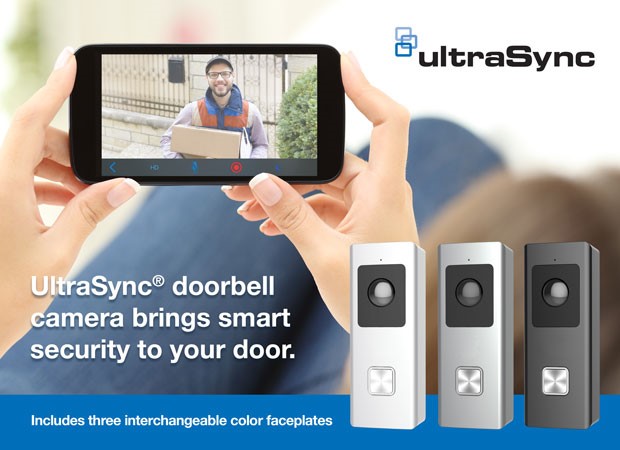 Interlogix UltraSync Video Doorbell-Know who's there even when you aren't!
Introducing the UltraSync® Doorbell Camera. Helping you stay in sync with your daily life, the new doorbell camera provides remote camera access to your doorstep from virtually anywhere
The UltraSync Doorbell Camera features real-time and recorded high definition video and audio. You can set up the doorbell camera to send notifications to your mobile device when motion is detected and when the doorbell button is pressed. Speak to the visitor via 2-way audio through the UltraSync mobile app. The doorbell camera can also be used to trigger automations like turning on porch lights. The doorbell works with existing mechanical doorbells and utilizes power via existing doorbell wires.
For more information on the new UltraSync Doorbell Camera, Click Here
Honeywell AlarmNet Total Connect Tracking Services Account Activations and Discontinuation
Honeywell Total Connect Tracking Services accounts are offered through CDMA technology, and effective June 30, 2018, CDMA activations will no longer be permitted. Tracking Services accounts include the following part numbers: TCVT2, TCAT and TCAT-EB. Once stock is depleted, Honeywell Total Connect Tracking Services will be discontinued. Any existing account will continue to be maintained and supported until the sunset date of December 31, 2022.
Verizon CDMA Cellular Activations UPDATE for AlarmNet Accounts
Attention: USA customers
AlarmNet will continue to support the provisioning of Verizon CDMA communicator devices with a manufacturing date of March 1, 2018 and forward. These communicators are sold with the SIMs pre-activated by Verizon and may be added to the AlarmNet network until December 21, 2018. Any existing CDMA communicators that are currently registered will continue to communicate and be supported by AlarmNet as Verizon has extended its CDMA network to Honeywell through December 31, 2022, under Honeywell's current longevity agreement with Verizon.
Cancelling a CDMA Account
If you cancel an existing CDMA account and then attempt to activate the device, this is considered a new activation and will not be eligible to be added to the AlarmNet network.
LTE Radio Portfolio
Honeywell is expanding its communicator portfolio to include LTE radios, which provides a transition to new cellular technology, and offers maximum network longevity.