2GIG-GC3E-345-K31 eSeries Security Alarm System and Control Panel 3-1 Kit
$389.99
Out of stock
Description
2GIG-GC3E-345-K31 eSeries Security Alarm System and Control Panel 3-1 Kit eSeries is the next generation 2GIG ecosystem, delivering enhanced security through encrypted sensors for an exceptional smart-security performance. The new 2GIG GC3e is the easiest, most intuitive home control systems in the industry, now featuring eSeries encrypted technology and more personalization options with Smart Areas. Smart Areas enables four security partitions in the 2GIG system for added personalization, flexibility and performance. With video playback and slide show, an intuitive 7" touchscreen and UI, and our best-in-class 2-way voice, the GC3e delivers unbeatable functionality, ease-of-use and fast installation. Experience.
*Discontinued Item: Try 2GIG EDG-NA-AA or  2GIG-EDG-NA-VA
The kit includes the most popular add-on products homeowners want: A PIR motion detector and 3 compact door-window sensors, all with built-in eSeries encryption.
Kit Contents:
[1] 2GIG-GC3e-345 GC3 Panel (English)
[3] 2GIG-DW10e-345 Door/Window Contact
[1] 2GIG-PIR1e-345 Passive Infrared Motion Detector
Key Selling Points:
• Our most advanced security panel yet.
• New! eSeries encrypted sensors provide enhanced security.
• Smart Areas™ enables easy set-up of four security partitions for maximum peace of mind.
• One of the first fully encrypted, self-contained partitioning panels on Alarm.com.
• Big, 7" screen with video/slideshow capabilities and a smarter, more intuitive user interface.
• 2GIG's proven reliability and performance that is trusted by millions.
•  Compatible with GC3 Secondary Touchscreens, Notification and Intrusion Sensors and much more.
• Backward compatible with all 2GIG legacy sensors.
• Integrated Z-Wave Plus radio supports Z-Wave devices for locks, lighting, thermostats and more.
• New Create Rooms and Bookmark Screen features tailored to each user's needs.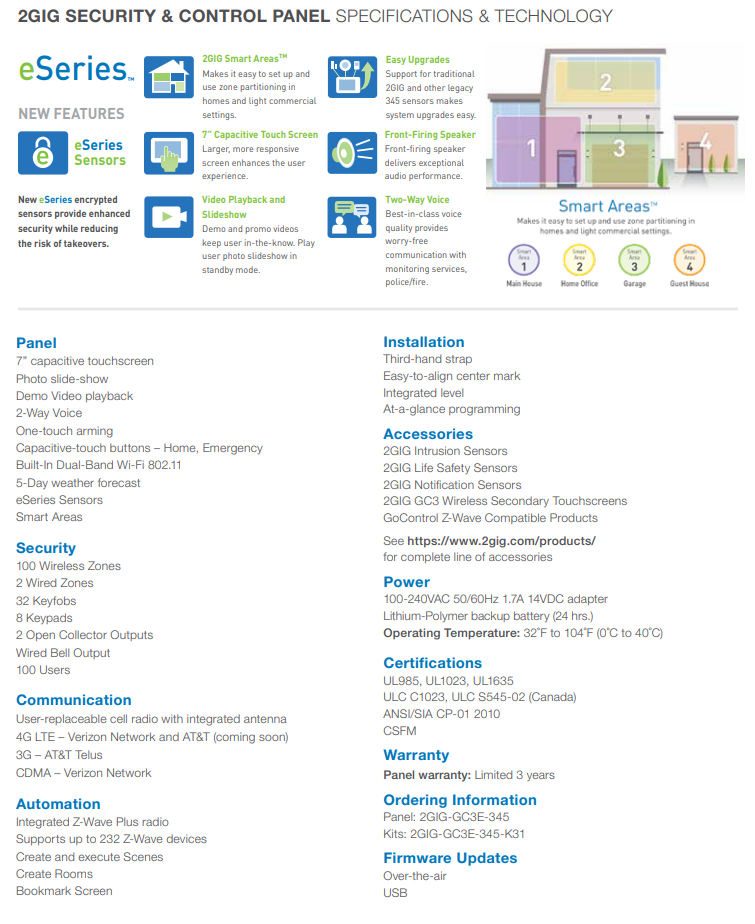 2GIG GC3e Panel Installation and Programming Guide
For more 2GIG products Click Here