How does the Telguard Medical Alert System work?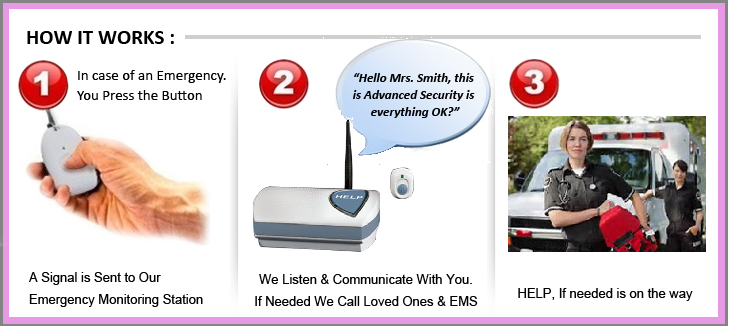 Is Medical Alert service available in my area?
Yes, We offer nationwide service in all 50 States.
How do I sign up for medical alert services?
You can order online or simply call us toll free at 1-877-364-0918 and our customer service dept will get you started.
How much does the equipment cost?
We do not charge for the equipment.  We lease you the system as part of our low rate.
What do I do with the system when services are no longer needed?
Simply call us to cancel services and ship the equipment back to our address on the bottom of the unit.
Is there a monthly service contract?
No, some other companies will force you into a 1-3 year contract, WE DO NOT.  There are no cancellation fees of any kind as long as the equipment is returned to us upon cancellation.
Do I have to pay for a year or several months in advance?
No, not with us, most companies will make you pay for 3,6 or 12 months in advance.  We can bill you monthly, Quarterly, or Annually if you would like.
Will my rate go up?
No, your rate is locked in for as long as you're a customer and will never go up.
Do I have to pay for repairs or service?
No, because we own the system and least it to you, we cover the unit in full for as long as your use the equipment.
Will I see any hidden fees, Activation Fees, Service Fees, or anything on my bill?
You will be billed only your monthly rate plus sales tax. No extra fees at all!
Can more than one person use the same service at the same location?
Yes, Just request an additional alert button.
Can I wear my medical alert button in the shower?
Yes, and we encourage you to because most falls are in the shower areas.
Will this work around my whole house?
Yes, this is state of the art medical alert equipment and covers a larger range.
Can I use this while I'm in the yard?
Yes, as long as the signal reaches the main unit.  I would recommend you test it first.
What happens if my power goes out at home?
The system has a battery backup so even if you lose power you will still be protected.
Who will install my medical alarm system?
Set up is extremely easy so there is no need for an installer to come to your home. Simply plug in the power cord, and press your button to test the unit.  The system is shipped already active and programmed.
What is I am unable to communicate to the operator? Will help still arrive?
Yes, if the button is pressed for any reason and our operator is unable to communicate with you, we will automatically send help.
Have a question you do not see listed here?  Contact Us with your question and we will answer it and maybe even add it to our FAQ's to help others.