Qolsys IQP4004 IQ Panel 4 PowerG + 319.5 MHz- AT&T
$399.99
Qolsys IQ Panel 4 PowerG + 319.5 MHz AT&T (White)
Description
The Qolsys IQP4004 IQ Panel 4  PowerG + 319.5 MHz- AT&T is an all-in one wireless 7″ touchscreen control panel with built in wifi and Cellular using the Alarm.com platform. This IQ 4 Panel is perfect for home or small business security. The IQ 4 Panel is also great for a new or upgraded installation. The IQ Panel 4 offers a built-in 8MP, 120 degree wide angle front camera with FlexTilt so you can receive images of who is disarming your system along with alarm images. The IQ Panel 4 supports 128 zones, 242 users, an 8-core Qualcomm SnapDragon Processor and it has 16 GB of NAND Flash memory. The Qolsys IQ Panel 2 is now offered in Black and White to match any decor. This panel is offered in both AT&T Cellular as well as different frequencies to support any existing equipment you may already have installed. Just be sure to purchase the panel with the best cellular network for your area as the cellular is built into the panel so it cannot be swapped out if the signal is low, the panel would need to be replaced.
The IQ Panel 4 includes LIVE VIEW. The Live view feature offers the ability to view Alarm.com Video Camera on the screen and Live Answer gives you the ability to answer your supported Skybell or Alarm.com video doorbell.  
The IQ Panel 4 comes with built in Cellular using Alarm.com, WIFI, Z-Wave Pluss 700 Series, Bluetooth Low Energy BLE for touchless disarming of your alarm panel, a built in glassbreak sensor and PowerG giving you all the features and benefits in one panel. As a Z-Wave hub you can control lights, locks, thermostats and so much more. With the built-in 4 x 4 watt speakers, the IQ Panel 4 allows for QuadSound Bluetooth audio streaming from your devices. You can add the optional IQ Base Table Stand subwoofer for a louder and more enhanced streaming music experience.
Qolsys IQ Panel 4 Overview Video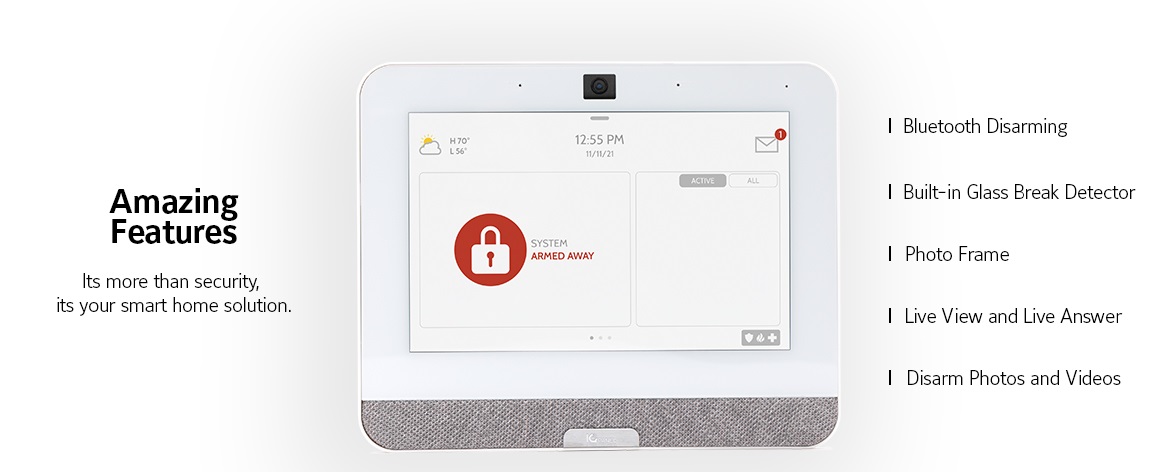 SPECIFICATIONS:
SPECIFICATIONS

Items

Parameters

IQ Panel 4

LCD Display

Size

7 inch LCD

Resolution

1280 x 800 pixels

Brightness

300 cd/m2

RGB Color

24bit, 16.9 Million Colors

Touchscreen

Type

Capacitive glass multi-touch

User Codes

Up to 242

Role-based (Dealer, Installer, Master, User, Guest, Duress)

Network

WiFi

WiFi 802.11 a/b/g/n/ac dual band 2.4/5GHz – including built-in access point capability

Cellular

LTE Category 4 (Bands 2/25, 4/66, 5, 7, 12/17, 13, 14 Non-FirstNet, 26)

Z-Wave Plus (700)

Up to 137 Devices

137 total (Up to 80 lights, up to 20 locks, up to 10 thermostats, up to 6 garage doors, up to 21 misc.)

PowerG

Up to 128 Devices

915 MHz Long Range Secure Encrypted 2-Way Wireless

Security RF

Up to 128 Devices

Depending on the model: Either S-Line Encrypted 319.5 MHz, 345 MHz, or 433 MHz

Bluetooth

Disarm & Audio Streaming

Bluetooth Low Energy (BLE) 4.2

Flash Memory

Internal Storage

16GB NAND Flash

LED Indicator

Status LED

Triple full color RGB LED

Speaker/Siren

4W x 4

QuadSound 4x front-facing 4W speakers and 85-decibel siren

Camera

Front Camera

8MP Wide-Angle, 120° Field-of-View, Fixed-Focus Camera, with Flex-Tilt Adjustment

Microphone

MEMS x3

3 MEMS (Micro-Electro-Mechanical System) Microphones with Echo Cancellation

Tamper

Tamper Switch

Dual panel and wall tamper with spring release and Smash and Grab reporting

Battery

Type 18650

Rechargeable Lithium Ion 3000mAh Rated for over 24 hours

Buttons

Hard Button

Single wake/sleep button, all user controls through touch interface

Mechanical

Dimensions

6.1"H x 7.5"W x 1"D (155mm x 191mm x 26mm)

Power Supply

DC

7v DC 1000mA CC, Input 100-240VAC 50/60Hz Adapter evaluated at 120vAC for UL/cUL

Mount

Back Plate

SmartMount for wall mounting included. SmartMount table stand or SmartMount IQ Base Table Stand with built-in Subwoofer sold separately

Certifications

FCC

FCC: 2AAJXQS-IQPANEL4 (may contain additional modules with separate FCC IDs)

IC

IC: 11205A-QSIQPANEL4

UL

UL-985, UL-1023, UL2610, ULC-S545, ULC-S304

Temperature

Operational

0°C to 49°C, 32°F to 120.2°F, up to 93% relative humidity, indoor, dry ordinary locations use only

Storage

-20°C to 50°C, -4°F to 122°F

Operating System

Android 9

Security & Home Automation Touch and Swipe Interface

Processor

8 core

Qualcomm Snapdragon 8 core SOM (System on a Module) with 16GB of NAND Flash
Qolsys IQ Panel 4 Installation Manual
See more Qolsys Products Click Here