Alarm.com ADC-3035L-AT Car Connector
$169.99
Description
The Alarm.com ADC-3035L-AT Connected Car Device Extends security and awareness outside the home or business with Alarm.com's Connected Car offering. Track your vehicle's location, view engine status, and analyze fuel efficiency—right from the Alarm.com Mobile App. Enjoy peace of mind with real-time driver safety alerts, diagnostic alerts, and more. The Car Connector quickly and easily plugs into a vehicle's OBD-II port, connecting the vehicle to the Alarm.com platform.
We offer the Connected Car Monthly service as an Add-On to your current Alarm.com Account with us, or if you do not have a currently alarm.com account we also offer this as a Stand-Alone Service plan and additional devices can be added for only $10.00 a month per unit.
Vehicle Location and Tracking
Diagnostics and potential repairs (check engine light on, low battery or low fuel)
Driving Behavior (sudden acceleration, hard braking, excessive speeding)
Unexpected Movement (vehicle moves while the engine is off, indicating it may have been towed, crashed into, or stolen)
 FEATURES
• 4G LTE
• GPS for location tracking
• Accelerometer for movement detection
• Backup battery
• Works with the Alarm.com Mobile App
 BENEFITS
• Real-time car status
• Driver safety alerts
• Diagnostics and security alerts
• Plug-and-play installation
• Works with vehicles with an OBD-II port (standard on vehicles manufactured in 1996 or later). Hybrid and electric vehicles are not currently supported.
A smart home security system gives you confidence. If there's trouble at home, you'll always know—even when you're not there. If only you could plug it into your car.

You could know about dangerous driving activity even when you weren't in the car yourself. You could stay one step ahead of emergencies, and feel more confident that your vehicle, and the people driving it, were safe.

With Connected Car from Alarm.com, you can. Take a look.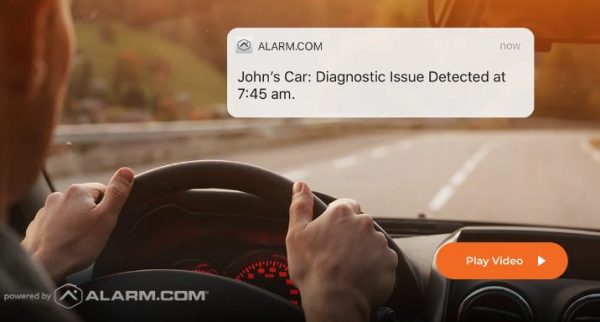 CONNECTED CAR- 
PROTECT YOUR CAR AND YOUR LOVED ONES EVERYWHERE THEY GO.
Connected Car is an extension of your home security system that plugs into your car, giving you a direct connection to its location, diagnostic status, and the behavior of its drivers.

If anything is wrong, it lets you know right away through your Alarm.com app.
Keep an eye on your favorite drivers
Does your teen's driving make you nervous? Connected Car lets you keep a safety-conscious eye on them when they're on the road without you.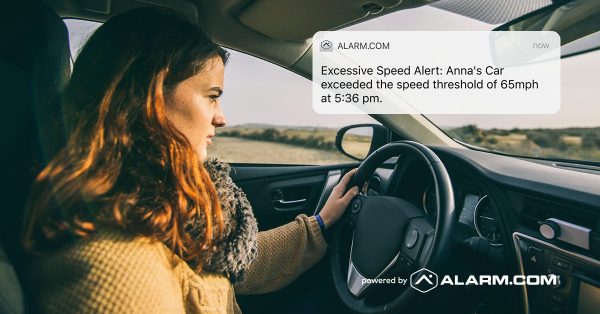 With real-time alerts for sudden acceleration, hard braking and speeding, you'll know for sure if your teen is driving responsibly, or if you need to reach out and ask what's going on.
Stay one step ahead of emergency repairs
If you've ever waited at the roadside for a tow truck to take your stranded car to the shop, you know that an ounce of prevention is worth a pound of cure.
Connected Car provides you with maintenance alerts that keep you one step ahead of emergency repairs and rescues. Whether your fuel tank is nearly empty, you need to get your engine checked or your battery is low, you'll be forewarned to fix the issue before it turns into a surprise expense.
Park your car with confidence
Do you feel anxious when you park in a less-than-perfect spot? You'll appreciate the extra confidence that Connected Car gives you.
If there's unexpected movement, you'll get an alert. If you're towed—or if you forget where you parked—you'll know exactly where to go, thanks to Connected Car's location tracking.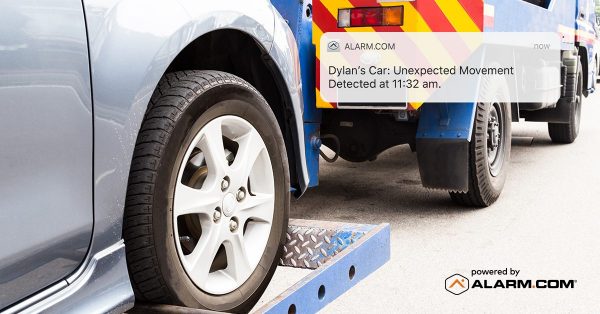 Its backup battery and cellular signal mean that Connected Car is always alert and working, even when your engine is off.
Enhance your smart home experience
As well as communicating with you, Connected Car communicates with your home to make things more convenient.
Seamlessly integrated with your Alarm.com-powered smart home system, it can adjust your thermostat automatically when you're on your way home, turn your outdoor lights on as you pull into the driveway, and alert you to potential security mistakes like leaving your garage open or front door unlocked.
All-in-one protection for your home and your car
Smart home security isn't just for your home anymore. With Connected Car and Alarm.com, you can extend your protection far beyond its walls to wherever your car and family happen to be
Technical Specifications:
CELLULAR NETWORK: AT&T 4G LTE
OBD-II INTERFACE:
J1850 PWM, J1850 VPW, ISO-9141-2, ISO-14230 (KWP 2000), SW-CAN, ISO-15765 CAN
POSITIONING: Integrated GPS
ACCELEROMETER: Built-in, triple-axis
STATUS LEDS: 3 (OBD, GPS, cellular)
CERTIFICATIONS: FCC, IC, CE, PTCRB, RoHS
OPERATING VOLTAGE: 12/24 VDC vehicle systems, 9-30 VDC (start-up, operating), 7-32 VDC (momentary)
POWER CONSUMPTION: Typical 2 mA @ 12 V (deep sleep), Typical 40 mA @ 12 V (active tracking w/ GPS and cell enabled)
BATTERY PACK: 180 mAh, Lithium Ion
BATTERY CHARGING TEMPERATURE: 32°F to 113°F (0°C to 45°C)
OPERATING TEMPERATURE:
-22°F to 140°F (-30°C to 60°C) (connected to primary power)
-4°F to 140°F (-20°C to 60°C) (operating on battery)
-4°F to 77°F (-20°C to 25°C) ≤ 6 months (long-term storage with battery)
OPERATING HUMIDITY: 95% relative humidity @ 122°F (50°C) non-condensing
SHOCK AND VIBRATION: U.S. Military Standards 202G, 810F; SAE J1455
DIMENSIONS: 1.8 x 2.6 x 1.1" (46 x 67 x 28 mm)
WEIGHT: 1.75 oz (50 g)
Click Here to see the Connected Car Monthly Service Plans
ADC-3035L_OBDII Installation Guide
For More Alarm.com Products Click Here